The new water park in Johor, Desaru Coast Adventure Waterpark is now finally opened to the public on 15th November 2018. It is located at Desaru, Johor. If you are travelling to Johor Bahru from Singapore for holiday, this is a place that you must not missed. The distance from Singapore to Desaru Coast Adventure Waterpark is only 1.5 hours!
Desaru Coast Adventure Waterpark is billed as one of the biggest waterparks in the world. It spans 100,000 square-metres – roughly the size of the Singapore Expo – and houses over 20 colourful attractions. From relaxing river-rides (Penawar River) to exhilarating water slides (The Tempest), you'll be free to determine the thrill-level of your little adventure.
Here, consisting of 5 different zones, the waterpark offers a unique mix of wet and dry rides. There are plenty of rides to choose from. This means you can either start slow and warm your nerves up, or throw yourself straight down a winding, dizzying slide.
1. Tidal Wave Beach Desaru Coast Adventure Waterpark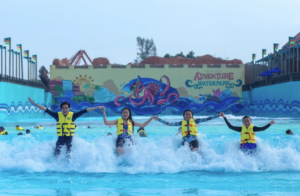 Tidal Wave Beach is one of the biggest wave pools in the world with some of the world's biggest man-made waves! This signature water feature at Desaru Coast Adventure Waterpark spreads over nearly three acres and holds more than 4 million gallons of water. And it comes with a 170m-long sandy beach!
2. Kids Ahoy Desaru Coast Adventure Waterpark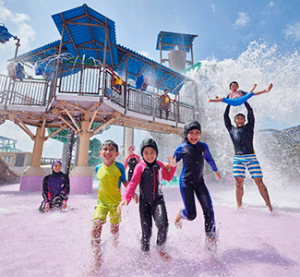 Kids Ahoy, a Desaru attractions theme specially designed for the young. 13 different water slides, along with splashing favourites ideal for toddlers, young children, teenagers.
For most waterparks, younger kids usually will not be able to go on the bigger water slides due to the minimum water height requirement. What this means is they are usually resigned to playing at the giant water play structure with mini water slides. And that is probably all they will get to play.
But not at Desaru Coast Adventure Waterpark. Sure, it has the standard huge water play structure, complete with water slides and giant splash bucket!
3. Penawar River Desaru Coast Adventure Waterpark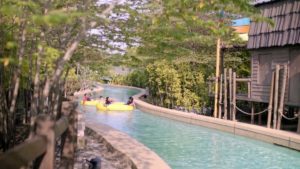 Any more speed-sliding and plummeting may just knock you out, so it may be time to take a breather. Float down the serene 350-metre Penawar River and calm yourself amid the lush tree-lined riverbank. It is the longest lazy river in Malaysia, looping the Zone 2 of Desaru Waterpark with shelter from lush greenery.
4. Swinging Ship Desaru Coast Adventure Waterpark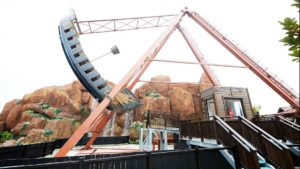 By now, your heart should be beating at twice its normal rate. The Swinging Ship is Desaru Waterpark's rendition of the classic viking ship. This replica pirate ship oscillates beside the 13-metre high Penawar Falls — so you may just catch a glimpse of the top of the falls when it swings to an unnerving 180 degrees. Hurry up and travel from Singapore to Desaru Coast Adventure Waterpark now!
5. The Tempest Desaru Coast Adventure Waterpark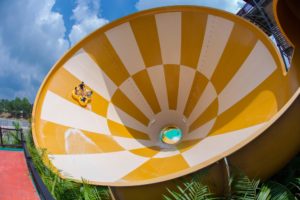 A little further down the park is a monstrously huge funnel. It belongs to The Tempest. You will experience two high-energy funnels throughout the course of the slide as well as a sudden 24-foot drop, which allows for high-banking swings and zero gravity moments. A 55-foot tube slide with a funnel in the middle sends riders on a swirling vortex before completing the descent. (Min. height 122cm)
Visit Maibeaute Jb Spa
Discover a new worlds of pure sensory environment at Our wellness spa which provides a cozy environment for all of your beauty needs. Maibeaute Spa is recommended by all spa lovers for you to be energized and fully great experience with every single treatment offers.
Otherwise, surrender your inner senses to a timeless rejuvenation with our rejuvenating facials or best selling signature maibeaute spa product. Rather your session would not be complete without enjoying Maibeaute Spa facilities. Treat yourself to a stress releasing and pampering jacuzzi session.
Top 5 Things to do in Desaru Coast Adventure Waterpark