Planning to go for a holiday to Johor but do not know what to do there? No worries. Johor has the best Johor waterpark for you to visit and have fun like Desaru Waterpark, Legoland Water park and Austin water park.Johor is a wonderful holiday spot for you and it has become a significant destination for visitors in Malaysia.
A number of water parks have emerged in the region as a consequence of tourism. Annually, because of its incredible water-themed parks, it draws many visitors. Among the water parks in Johor, these are the amazing ones which you can visit!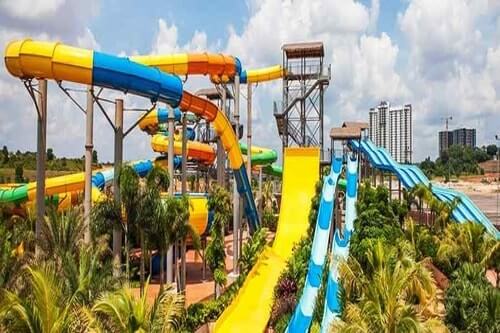 Additionally, there are other attractions such as swimming and rafting pools, these water parks have exceptionally big slides. Without further adieu, let's get straight into our list of the top 5 amusing, thrilling and exciting water parks to visit in Johor.
1. Desaru Water Park Coast Adventure
Greatest and biggest Johor Water Park is positioned on Desaru's 17 km beachfront. The beach's Johor water park spans more than 3,900 acres. They also feature 17 distinct water slides with a combination of wet and dry rides that will give everyone a lot of fun.
The 17 different wet and dry water slides are Tidal Wave Beach in Desaru Water Park which is one of the world's largest wave pools with over four million gallons of water spread over almost three acres, Kids Ahoy has three age-appropriate play fields packed with water play facilities and 13 distinct water slides for our younger visitors, Riptide which is a ride that will sweep you away at the steepest corners and speeds, offering you an unparalleled weightless impression,
Kraken's Revenge is a mixture of roller coaster and splashing flume ride that takes thrill seekers up 30 meters above floor in rolling "ships" before swooping and spinning through a complete 360o horizontal loop, followed by a 27-meter dive into the shipwrecking Kraken sea monster waiting in the water pool below, Beachside Cabanas is where you can relax in comfort and enjoy the views of the wave pool from the lounge along Tidal Wave Beach's 170-meter long sandy coastline and many more.
At Desaru Water Park Tourists can either plunge into Asia's biggest wave pool plus a fresh ' steel water coaster ' that is the region's first! Moreover, the park is encircled by exclusive, high-quality luxury hotels and villa, along with 2 lovely golf courses that have attracted many golfers and other visitors.
2. Legoland Water Park Malaysia
This is famous Johor Water Park, LEGO theme park that brings together Lego construction fun, water theme park, and a weekend getaway resort. With various water rides and displays, it is the entire family holiday destination. Miniland is the core of attraction.
This is the region that has small Asian landmarks representation and used over 30 million lego bricks in the process. Almost everything operates on a button here, whether it is an airplane or a train, and has been intended with considerable thought and care. The Legoland waterpark is the wet park with around 20 large slides and around 70 models of Lego bricks.
Joker Soaker, Build-A-Boat, Wave Pool, Splash Safari and Slide Racers are the primary attractions of the locationin Legoland Water Park. However, that's not all, and you'll have a nice time splashing through the different rides.
For instance, Joker soaker is a structured play area where children can shoot water cannons at each other and every other minute a huge bucket pours out 350 gallons of water, Build-A-Boat is another pleasant medium for children, where they can use Lego bricks to build their own ships.
These are produced of soft material to prevent any harm, Slide Racer is where you race as quickly as you can with your friends or family. To prevent getting hurt, the thrill ride comes with a smooth foam mat and many other enjoying rides as well.
3. Austin Water Park & Adventure Park
The latest addition to the already flourishing water park scene in Johor, Malaysia, is Austin Water Park. Nevertheless, in a very short time it has gained enormous popularity and is set to become Water Park Johor most sought-after landing point.
Although it is a medium-sized theme park, it has seen many visitors and has become a famous destination not only for local individuals but also for tourists from abroad. There are a total of 12 outdoor attractions in the water theme park, along with multiple indoor operations.
The park offers plenty of opportunities for fun-filled operations. It also offers some of the world's most exciting water slides, set to offer a sure rush to your level of adrenaline. The Austin Water Park also has to boast of an excellent customer service. The employees are friendly, warm and quickly attend to your requirements. The tickets are economically rated, making it a famous local and tourist weekend destination.
Now throw out the gate those ancient memories of traditional theme parks. With its exotic tropical theme design, an intriguing Austin Heights Water & Adventure Park is prepared to immerse you.
The sensations you will experience with us are walking in an explosion of pulsating, lively atmosphere with fun people around you, blasting off with vibrant and colorful ornaments while enjoying amazing sunsets over the seas in an easy-breezy style.
Austin Heights Water & Adventure Park also offers a range of "jaw-dropping" water slides to alleviate you from the warm climate in addition to the college of breathtaking summer landscapes!
4. Wet World Batu Pahat
A very famous name in Malaysia's water park world. Wet world is part of the park chain of Only World Group (OWG) and is an absolute delight for all family outings. Wet World Batu Pahat Village Resort is where you can appreciate the component and slides of interactive water game.
The park features a wave pool that will surely bring out all of you wave fans, gallon loads of excitement. The place is kid-friendly, and a place where kids can enjoy the secure fun while parents can relax and sit back. While all your water fantasies are fulfilled, time will cease to exist at Wet World Batu Pahat Village Resort.
Not only does it promise time with loved ones of great quality, it also does not harm your pocket. This water park chain is distributed throughout the nation and is an optimal location for family activities of all kinds, whether birthdays or carnivals.
The rides will not only make you but your children come home for a bit more fun. For your young people, the artificial wave pools will surely generate the correct magic and fun. Other facilities such as the Springs Spa and health care clinics are available in addition to all the fun rides. So for all age groups, there's a lot of everything.
The theme park has a fresh attraction added. Glow Park, Johor's first is something unique for all to enjoy the magical experience of watching safari animals, sea creatures and others come to light after sunset. As an admission fee, a minimum of RM8 is needed.
The Batu Pahat Wet World is aimed at catering for households and making the time spent together special. Their attempts are to provide a healthy life through a day of fun, entertainment and excellent hospitality, leaving you with a memorable experience.
5. Tiram Indoor Water Park Johor
It's Johor's first indoor water park. It is situated in Today's mall premises on the highway to Kota Tinggi. This water park Johor can accommodate up to 1,000 tourists at a moment. The tickets are priced at an inexpensive price and on weekends for everyone there are additional fun hours.
The park is situated on the mall's ground floor and has gained enormous popularity within months of commencing activities. This is a water park on the theme of the sea-world that boasts 26,000 sq. Ft. pool area and slides of water. In the Jacuzzi pools, adult tourists can also relax. Visitors can easily reach the place as it is the stopover point for individuals traveling from Tuas Checkpoint to the town.
The highways in the region are also a beneficial addition, particularly the Senai-Desaru highway, which boasts all of Johor's smoothest highways.There are three different exciting venue in there. The first one is the wet water park. Sea-world theme, adorned with cute sea animals laws, sensible entry fee, offers kids with an unforgettable recreation experience and a great moment to get in touch with friends and family.
Next is the dry water park. Sea-pirate theme is a fresh picture of the Tiram indoor water park, lots of fresh fun journey and lots of more dry operations that you can love if you're not in the mood to get wet. And the last one is the Party Room.
A fresh location you can do in Tiram indoor water park for meeting, learning, and event birthday party. Thus, want to have a wonderful and not so boring birthday but at the same time want to have fun, Water Park Johor is the place for you!
Visit Maibeaute Jb Spa
Discover a new worlds of pure sensory environment at Our wellness spa which provides a cozy environment for all of your beauty needs. Maibeaute Spa is recommended by all spa lovers for you to be energized and fully great experience with every single treatment offers.
Otherwise, surrender your inner senses to a timeless rejuvenation with our rejuvenating facials or best selling signature maibeaute spa product. Rather your session would not be complete without enjoying Maibeaute Spa facilities. Treat yourself to a stress releasing and pampering jacuzzi session.
Top 5 Most Visited Water Park in Johor Bahru