Want to have a great seafood JB meal which satisfies your heart and soul in Johor? Here are top 5 delicious seafood JB restaurants you can find in Johor.
Food is the main focus for all of us when we're going for a holiday or a trip. Different places have their own uniqueness of delicacies and also creative style of making their food. Good food is equivalent to beautiful and satisfying stomach, heart and also it will be a great memory of our holiday or trip.
1. Restaurant Todak Seafood JB – 'Orang Asli'
The iconic Todak Seafood JB Restaurant is located directly on one of the beaches of the Straits of Johor. It was founded in 1999 and is renowned for being one of Johor's finest seafood restaurants. Situated on the beach, the dining experience is also improved.
Freshly caught pomfrets, snappers, groupers, threadfins and many other delicacies are served in this restaurant. There are also plenty of crab, shrimp, lobster and oyster dishes available to select.
The maritime food can be prepared in many varieties: Thai style, black pepper,' sambal' or Hong Kong steam. The crab platters are a signature dish in the Todak Seafood restaurant and are recommended for anyone who loves the fresh, spicy and prepared crabs.
The restaurant is built with a fantastic view of the Straits and the silent red lighting during the evening is a pleasant culinary experience and is a hint why the cuisine is so successful.
Located at: 1, Kampung Orang Asli, Telok Jawa, Masai, Johor Bahru, Johor, Malaysia.
Operating hours: 11:30am to 11:30pm
2. Grand Bayview Seafood JB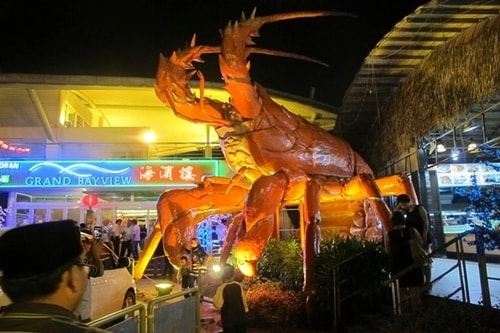 You will do yourself a large favor in sampling the genuine seafood at the Grand Bayview Seafood JB Restaurant if you are looking for the perfect seafood restaurant on Johor Bahru's Danga Bay region. It's difficult to miss ; it's gobbled up far away by the glorious lobster sculpture.
The menu is broad and diverse and customers of all races and religions can enjoy a flavorful menu. Oat-meal prawns, the one that people come from far to savor, are among their most loved cuisines. The salted egg crabs also leave you to ask for more.
Often used for corporate events, marriages, banquets, etc., with 160 tables and a capability for 1600 people. The place is amazing; the distance from the ocean overlooking the Straits of Johor and Singapore, plus sailboats and yachts along the water, make for a superb diner experience.
Located at: 3, Lot PTD 21349, Batu, 1/2, Jalan Bertingkat Skudai, Danga Bay, 80200 Johor Bahru, Johor, Malaysia.
Operating hours: 11:30am to 12:00am
3. Pasir Putih Seafood JB – SPOA Restaurant
The quality of the food that is provided is one of the best criteria to choose a healthy seafood JB restaurant.
The SPOA Restaurant has a hard-to-miss look like a market for seafood, which features all creefs, lobsters, crabs and oysters in aquariums throughout the area. In reality, only if you create an order that ensures freshness are you fished out.
There is a very large range of dishes. One of their own dishes will leave you spellbound with clams the size of an adult palm. Depending on your liking, samples seafood JB are also provided of drunk prawn soup, chili crab, shelled-fishes, lobster and other fish dishes.
The views are great right on the water. It's just constructed in a rustic atmosphere. However, the food is what the diners bring here. It's genuine, fresh, and created to your preferred style.
A nice way to get to know the food is to order your favorite in a group and everyone. This way, you can see what others have, and the next time you visit Restaurant SPOA, you can just change your order.
Located at: Kg Pasir Puteh, Teluk Kabong, Johor, Malaysia. (near to Tanjung Puteri Resort & Golf Course)
Operating hours: 11:00am to 11:30pm
4. Chua Kee Seafood JB
Gelang Patah, Johor has not many seafood jb restaurants, or at least not those with sophisticated menus and fine foods.
However, the Chua Kee restaurant is a location where visitors can stop for a meal or dinner on this area and on their transit to Jurong and Bukit Indah as well as nearby parks and theme parks.
The menu includes common seafood JB and other typical dishes such as chicken and pork. However, it is the seafood for which most customers arrive here.
Among its most common dishes: lala, cereal creams, stir squids, sausage, profound fries with salted eggs, and bean curd hotplate with seafood in tom yam sauce, are amongst the most popular.
Your lunch or dinner is a delight, with ample parking, airy atmosphere and a reliable service.
Located at: No.1, Jalan Kacang Panjang, 81550 Gelang Patah, Johor Bahru, Malaysia.
Operating hours: 11:30am to 11:00pm
Closed on: alternate Wednesday
5. Tian Lai Seafood JB
Tian Lai Restaurant is one of Gelang Patah's finest seafood JB restaurants. It is also the most famous joints of seafood. This road is close to Singapore-Johor Second Link Road.
Tian Lai is just 15 minutes away and is a great place to relax and gather for lunch or dinner for the guests of Legoland and Kitty theme parks.
The menu offers a rich selection in various styles and to your liking of seafood dishes. You can attempt their signature food, the Black Pepper crabs and Fried calamari, with sambal if it is your first time in the restaurant. You can be more adventurous later and order the other fare.
Superb and well prepared are all the dishes. Other dishes include fried Ikan Patin, chili crabs, juicy crab flesh and sambal kang kong. There is also a seabed menu with chicken and tofu parts.
This restaurant is located close to the Second Link Road and major theme parks like Legoland and Hello Kitty plus affordable prices.
Located at: 158, Jalan Leong Bee, Gelang Patah, Johor Bahru, Johor, Malaysia.
Operating hours: 12:00pm to 11:00pm
Closed on: alternate Mondays
Visit Maibeaute Jb Spa
Discover a new worlds of pure sensory environment at Our wellness spa which provides a cozy environment for all of your beauty needs. Maibeaute Spa is recommended by all spa lovers for you to be energized and fully great experience with every single treatment offers.
Otherwise, surrender your inner senses to a timeless rejuvenation with our rejuvenating facials or best selling signature maibeaute spa product. Rather your session would not be complete without enjoying Maibeaute Spa facilities. Treat yourself to a stress releasing and pampering jacuzzi session.
Best Seafood JB Restaurant You Should Try