Are you craving for delicious and affordable chicken shop JB? Here! We discover all the cheapest chicken chop in JB that below RM10 only!
1. Itam Puteh Bistro – Chicken Chop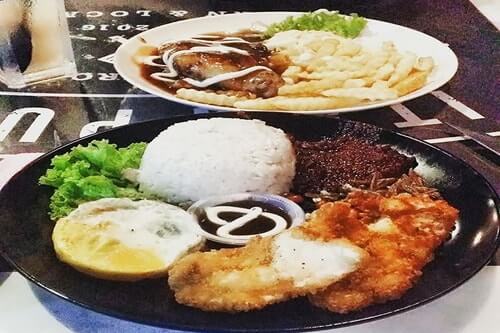 Itam Puteh, located in the southern part of Ulu Tiram, has attracted the attention of many people. Although this restaurant is run by Muslims, it attracts many Chinese to visit! In addition, the food is delicious and cheap, the service also makes many diners praise.
It sells a variety of Western and local dishes, such as fried chicken chop RM6.50, fried chicken chop RM10, fried chicken chop + fish clam RM6.50, fried chicken chop + coconut milk rice RM6.50 and other super affordable meals!
Location: No.17, Jalan Beladau 30, Taman Puteri Wangsa, 81800 Ulu Tiram
Tel: 011-3967 6078
2. Hutan Bandar – Chicken Chop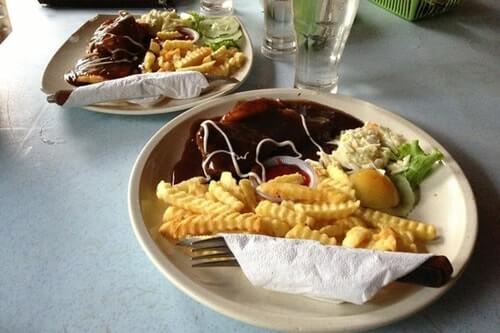 As long as you talk about ultra-cheap chickens, everyone's mind must have flashed Hutan Bandar, with their chicken only costs RM5! This is not a western restaurant. There is no elegant environment here. There are no comfortable cushions and flamboyant decorations.
The table is a little dirty. It is more like a typical stall. Chicken chops with a price of RM5 are still preserved. The full-flavoured meat chop is served with French fries and salad. The meat tastes smooth and tastes good.
Location: Hutan Bandar Johor Bharu, Jalan Tasek Utara, Taman Bakti, 80200 Johor Bahru
Time: 5pm – early morning
3. JB Chicken Chop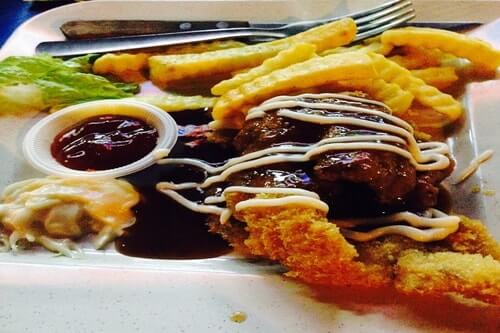 JB Chicken Chop, run by muslims, specializes in a range of economic Western foods, such as fried chicken, fried chicken, fish, sheep, fried rice and many other options, which is very suitable for a family's taste. The signature meal is of course its chicken!
In terms of sauce, the thick and juicy sweet baked sauce is poured on the large pieces of chicken. Each mouthful of it can taste the unique sweetness of the sauce, with a little chili sauce and beautiful milk.
Address: Jalan Adda 3/1, Adda Heights, 81100 Johor Bahru
4. Hung Kitchen – Chicken Chop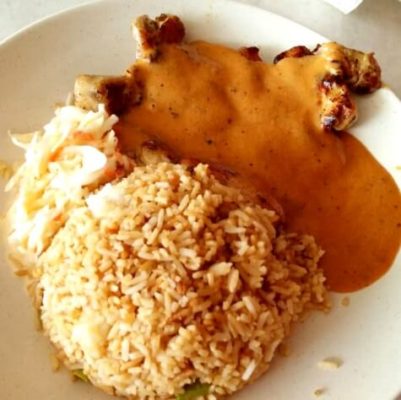 Hung Kitchen is a home-style food stall. It is said that the boss used to work as a chef in a fine restaurant, so the food requirements are quite high, especially for chicken and curry chicken rice.
In addition to the fried chicken, another recommended dish is Mongolian chicken risotto, and the large piece of Grilled Chicken is topped with the special Mongolian sauce. It has a slightly spicy taste. It is very appetizing! In particular, the chicken risotto here is not a white rice, but a garlic egg fried rice with a very good heat, plus a salad, it only costs RM7!
Address: 331, Jalan Ahad, Kampung Ungku Mohsin, 80350 Johor Bahru
Phone: 012 – 7664652
Time: 11am-3pm (closed on Sunday)
5. Lao Pa Sat / Chicken Chop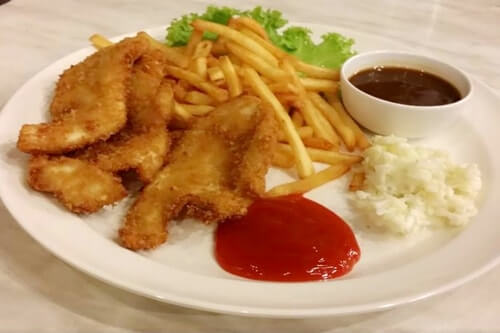 Founded in 2014 by a group of young people, the Lao Pa Sat was established in 2014. In order to attract more family-oriented customers, they launched a price-friendly chicken, attracting many loyal customers.
The restaurant sells a chicken chop with only RM5.50! Chicken chops include French fries, salads, and fresh fried chicken breast pieces, and finally served with a brown sauce specially prepared by the store. The meat does not look too dry.
Address: 26, Jalan Indah 10/1, Taman Bukit Indah, 81200, JB
Address 2: 62, Jalan Gaya 1, Taman Gaya, 81800 Ulu Tiram
Tel: 012-762 2077
Visit Maibeaute Jb Spa
Discover a new worlds of pure sensory environment at Our wellness spa which provides a cozy environment for all of your beauty needs. Maibeaute Spa is recommended by all spa lovers for you to be energized and fully great experience with every single treatment offers.
Otherwise, surrender your inner senses to a timeless rejuvenation with our rejuvenating facials or best selling signature maibeaute spa product. Rather your session would not be complete without enjoying Maibeaute Spa facilities. Treat yourself to a stress releasing and pampering jacuzzi session.
Top Most Popular Chicken Chop Menu Below RM10 at Johor Bahru