Nightlife in Kuala Lumpur are plentiful as a hub of numerous bars, pubs, and clubs on the streets, as well as stylishly luxurious rooftop establishments situated within five-star hotels. From the cocktail bars of Bangsar to the chic see-and-see nightclubs of Changkat Bukit Bintang and Petaling Street spinning hip-hop and house tracks, it is possible to say there is no shortage of interesting places to go at night in Kuala Lumpur.
Especially in Jalan Alor, with the night spots offering a winning mix of friendly atmosphere, comprehensive alcoholic drinks and skilled DJs spinning dance-worthy songs, the city becomes alive and nightly shortly as the sun sets.
However, nightlife in KL isn't just constrained to watering holes as you can discover numbers of hawker stalls with intriguing Asian cuisine and bustling night markets that remain open until the wee hours of the morning.
KL nightlife is filled with diverse range of party-goers ranging from local youths and expats to international tourists. What represents nightlife in general typically varies from individual to individual. It could indicate clubbing for the younger audience, age ranging from 18 to 24 years old, sinking bottles of beers in a pub or club for drinkers, advanced dining and live entertainment for others.
As for non-drinkers, on the other hand, they may preferably browse the colorful night markets of KL during their free time at night.There are several nightlife places that locals or expats, even international tourists could visit to enjoy the night, however the top five places are the ones that are always filled or packed with people.
Changkat Bukit Bintang –
Firstly, Changkat Bukit Bintang. Changkat Bukit Bintang, commonly considered to be the definitive party location for Kuala Lumpur, is readily available from prominent landmarks like Pavilion KL, Starhill Gallery, and Jalan Alor Food Street.
This narrow avenue is packed with global restaurants, cocktail bar nightclubs and vibrant pubs with music spinning DJs, ranging from home and electro to remixed pop and hip-hop songs. While its nightlife scene is constantly changing, a number of crowd-favorite restaurants can be discovered here, including Pisco Bar, Havana Bar & Grill, and The Rabbit Hole.
Common bars operating hours: 5pm to 3am
Famous Bars:
Pisco Bars,
Havana Bar & Grill
The Rabbit Hole
Rooftop Bars – Nightlife in KL
Secondly, rooftop bars are becoming massively popular among the late-night revelers of Kuala Lumpur. Some of Kuala Lumpur's finest nightlife is far above the roads of the town, with countless nocturnal hotspots ranging from classy ristorantes to cocktail lounges nestled atop high-rise buildings.
Offering excellent atmosphere and amazing views of Kuala Lumpur, rooftop bars are the best bet if you just want to sit back, relax and watch the sun set below the town horizon after a long day, with a drink, of course, in hand. Some of Kuala Lumpur's finest rooftops bars include Marini's on 57, Sky Bar, and Sky Dining Troika.
Common operating hours: 4pm to 3am
Famous rooftop bars:
Marini's on 57
Sky Bar
Troika Sky Dining
Nightclubs
Kuala Lumpur nightclubs are plentiful, varying from well-hidden subterranean locations to advanced rooftop clubs with expansive town views. Those looking to appreciate a nice time in Kuala Lumpur will discover that these nightlife places are always crowded until the evening, thanks to their amazing line-up of known DJs spinning dance-worthy songs.
Extensive alcoholic beverages and a pleasant atmosphere. The most famous nightclub in Kuala Lumpur is Zouk KL, but if you're sick of mainstream songs and expensive support fees, fall Under9 KL on Friday and Saturday evenings.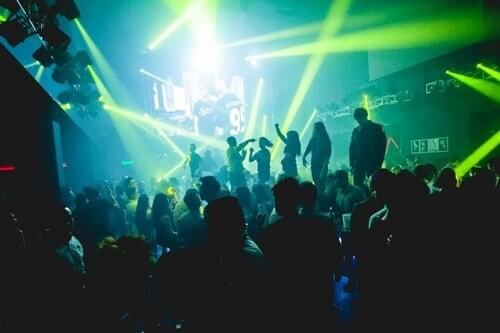 Operating hours: 5pm to 5am
Famous nightclubs:
Petaling Street – Nightlife in KL
As for those non-drinkers, they can visit places such as Petaling Street. Petaling Street is in a league of its own in Chinatown KL. It's not about club rows, pubs, and bars providing music-alcohol-fuelled entertainment, but the colorful after-dark market dominating the nightlife scene here.
A well-known shopping district in the center of the town, the entire region becomes a lively and vibrant night market when the sun sets, with hundreds of stalls selling clothes, souvenirs and accessories at dirt-cheap rates.
You can also discover several nightlife in Petaling Street KL hotspots hidden along tight alleyways, from hostels equipped with improvised rooftop bars to speakeasies and cocktail bars.
Operating hours: 10am to 9am
Jalan Alor
Another place that can be visited by non-drinkers is the Jalan Alor. Jalan Alor is one of Kuala Lumpur's most popular food highways, hosting countless hawker stalls and seafood restaurants that remain open until late and packed.
It is located right behind Jalan Bukit Bintang and a brief walk from Changkat Bukit Bintang and a brief walk from Changkat Bukit Bintang, the KL Golden Triangle area is a favorite after-club dining place.
A strong comparison to the trendy Jalan Bukit Bintang and Changkat Bukit Bintang, Jalan Alor has a traditional appeal with ambient, air-conditioned Chinese seafood establishments, vivid fluorescent lighting and mini red Chinese lanterns hung in the forests.
Operating hours: 5pm to 12am
Some food stalls open 24 hours
Not forgetting, The Time Out KL Drink where we handpick the best places to drink Nightlife in Kuala Lumpur. These bars and joints serve up some of the most creative cocktails, offer the rarest labels whether it is wine or liquor, and have the tap craft beer from some of the world's best craft breweries.
There are few places to drop by and have a drink, however the top five bars are the ones that are frequently visited. As one of Kuala Lumpur's Nightlife most well-known bars, Coley has one thing on its excellent reputation and name which is the cocktails.
Coley is situated in Bangsar and it has been ranked in Asia's 50 Best bars in both year 2018 and 2019, serving a variety menu of cocktails that are updated frequently. There is a core selection of classic cocktails updated with classic and latest Coley twists; and the bar's early-day cocktail menu is still an all-time favorite of customers, with local beverages and ingredients.
The next one would be Jungle Bird, which is located in Bukit Damansara. Jungle Bird is also one of another entries in Asia's 50 Best Bars in both year 2018 and 2019. It is a self-proclaimed "Rumah Rum" which hold more than 100 light and dark rum labels from around the world.
The bar exudes a charming atmosphere of a tropical resort, and, of course, serves rum flights and cocktails. Go for the title of the bar, the cocktail of JungleBird.
A visit to Chinatown's PS150, situated at Petaling Street is a walking experience with environments reminiscent of old-transportation Hong Kong dens alongside outdoor spaces and an intimate bar area. The cocktail menu is split into distinct eras of the history of the drink, each providing a modern twist of initial concoctions and classics.
Adding on, the cosy Pahit, which can be found in Bukit Bintang specializes in everything from different variant of classics to innovative cocktails based on modern gin. It is suggested to go the very easy-to-drink frut-infused drinking, or if you are interested in cocktails, the house signature Gin Pahit #2 is the classic Pink Gin version of the bar.
Lastly but not the least, the discreet Omakase and Appreciate provides complicated modern cocktails produced by award-winning mixologists, one of the KL's first real speakeasy bars and ranking them in the top 10 of the annual Asia's Best Bars list.
The omakase idea which is the "I will leave it to you" idea is practiced here at this bar, so you can leave your drink choices in their skilled hands. This will not leave you any disappointment.
Visit Maibeaute Jb Spa
Discover a new worlds of pure sensory environment at Our wellness spa which provides a cozy environment for all of your beauty needs. Maibeaute Spa is recommended by all spa lovers for you to be energized and fully great experience with every single treatment offers.
Otherwise, surrender your inner senses to a timeless rejuvenation with our rejuvenating facials or best selling signature maibeaute spa product. Rather your session would not be complete without enjoying Maibeaute Spa facilities. Treat yourself to a stress releasing and pampering jacuzzi session.
Top Best Nightlife Places In Kuala Lumpur