Let's explore the top 10 mountain in Johor that suitable for hiking and outdoor activities to spend whole a day just chilling and hanging out. Located in the southern part of Peninsular Malaysia, the region of Johor is home to one of the most treacherous mountains in Malaysia and near Singapore.
It is a hilly region and as such has in all aspects a sequence of distinct hills except that they are all found in Johor. Hiking will not only train you, but also help your heart and lung function better. Take advantage of exploring this mountain this coming weekend with your friends in Johor!
1. Gunung Panti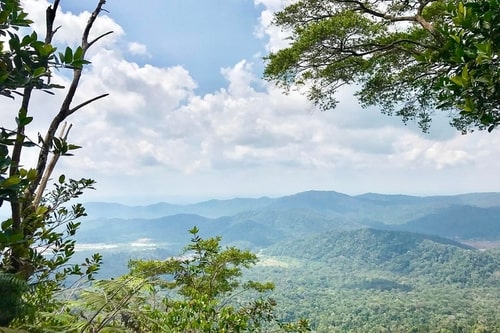 It's a treacherous but beautiful mountain from as far as Kota Tinggi's waterfalls can be seen. It is 485 meters high and seems to be capped with a huge bolder that gives it an unmistakable identity.
This is the ideal set-up for any hiker who has the daunting challenge of reaching their peak and finding out what's in store. Once you reach the peak, the mountain gives you a complete circle view of the surrounding region, not to mention the beautiful countryside at the top in the form of flora and fauna.
It will take any hiker to climb for about 2.5 hours and 2 hours to descend, and climbing this mountain is not very taxing. The best part of the walk is climbing rock where ropes are needed to lift yourself and strategically position your foot. Slow and steady, with all the friends helping you.
Location: Gunung Panti Recreational Forest, 81900, Kota Tinggi, Johor
2. Gunung Lambak
Gunung Lambak is a twin peaked mountain with a peak above sea level of about 510 meters. It is also slightly steeper than Gunung Panti and requires a great effort of hiking. The path to the Lambak Mountain is steadily increasing and rough.
Due to the advanced hiking trails, climbers can choose which route to climb. Getting from the horn to the top of the mountain takes about 3 to 4 hours. A lot of rare plants and animals can also be seen here!
It can present a very nice challenge to any hiker who wants to conquer the Gunung Lambak. As there are no permits or entrance fees, climbing the mountain is free.
Location: Gunung Lambak Recreational Forest, 86000 Kluang, Johor
3. Gunung Pulai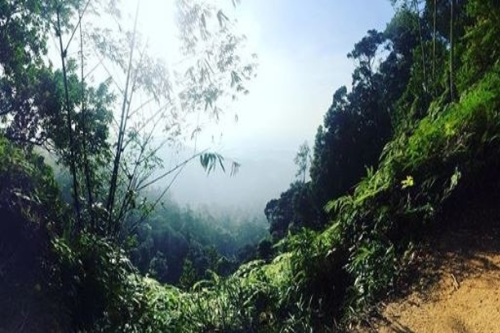 Gunung Pulai, also known as Mount Pulai, is one of the most famous hiking spots in Johor. The flora and fauna found in Mount Pulai attracts many hikers in this part of the globe.
The wildlife variety here is also attractive to most hikers. On your way up, you will have the chance to see and admire several waterfalls, as you can also have a picnic on top. The 654 m high mountain includes a 80 square kilometer forest reserve and is the closest area between Johor Bahru and Singapore.
Many Singaporeans and other tourists attract Gunung Pulai because they believe that there is a historic connection between Mount Pulai and Singapore.
Location: Gunung Pulai Recreational Forest, Kulai 81000, Malaysia
4. Gunung Arong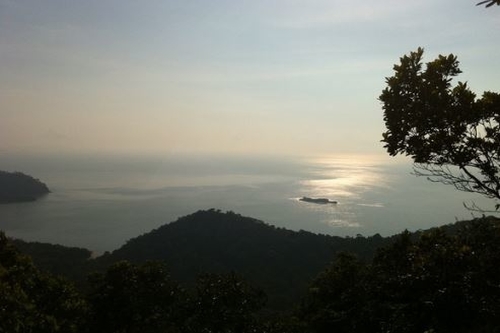 Gunung Arong is a small hill in Penisular Malaysia, in the state of Mersing, 273 meters above sea level. The stream provides maximum pleasure for many hikers and adventure seekers whose refreshing and cooling impacts are an unforgettable experience.
It not only allows you to enjoy the beach view, perfect for a pair of hikers! The Gunung Arong peak rewards hikers and trekkers alike with a panoramic view of the South China Sea and its adjacent islands. You can also see Pulau Tioman's magnificent splendor unfolding before your eyes in fine weather.
To reach the peak, which is about 255 meters high, you have to walk for about 2 hours.
Location: Gunung Arong Recreational Forest, 86900, Johor
5. Gunung Belumut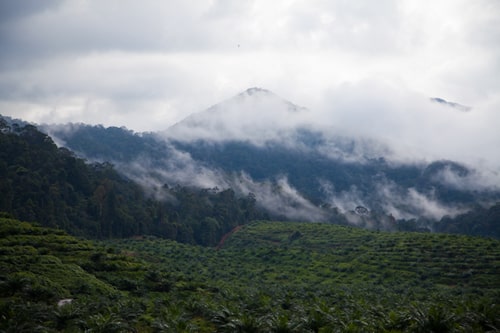 Gunung Belumut is up to 1010 meters high, nearly twice as high as the mountains on this list and about 18 km east of Kluang. This mountain is bigger and steeper compared to Lambak and Panti Mountains and requires a person to walk up and down the whole day.
Creating the entire trek for a small group will take about 2 days and one night. There are three campsites on the trekking path along the way to the summit.
Because it is protected and managed by the National Peak Council under the Johor Forestry Department, it is necessary to pay for mountaineering. Climbing the mountains and using the chalet to stay overnight are charged.
Location: Gunung Belumut Recreational Forest, Kulai, Johor
6. Gunung Ledang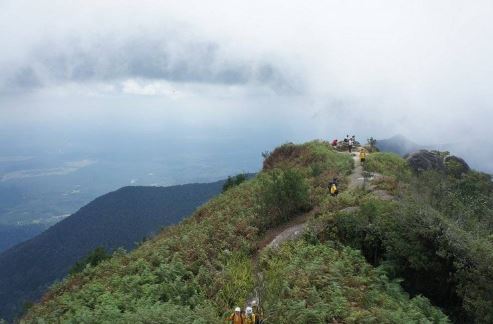 This is one of Peninsular Malaysia's most trekked mountains. It is possible to access Gunung Ledang, also commonly known as Mount Ophir, via two routes. Mount Ophir is a Gunung Ledang National Park mountain located in the district of Tangkak, Johor, Malaysia.
The summit is between Muar and Melaka's border. At 1,276 m, it is Malaysia's 64th highest mountain. The most commonly used path is the Sagil Path, which is much longer than the Asahan route. The Asahan route is less well known as less accessible than the Sagil route. The route up the Ophir Mountain was used by a few trekkers.
7. Gunung Muntahak
Gunung Muntahak is a 634 m hill which is the Kota Tinggi Waterfall's main source of water. It is a rainforest with little or no human intrusion that is largely undisturbed. Other hills hide the hill and it is difficult to see from the main road leading to the waterfall of Kota Tinggi.
It has the perfect condition for widespread beautiful palm growth in this rainforest. The path to the summit is smooth and narrow, and there are many obstacles as you make your way to the summit.
Location: Kota Tinggi, Johor, Semenanjung Malaysia
8. Bukit Payung
Bukit Payung Batu Pahat is a moderately trafficked 10.3 kilometer back and forth trail located near Batu Pahat, Johor, Malaysia, which offers wildlife viewing opportunities and is considered difficult. The trail is used primarily for hiking and nature trips and is accessible throughout the year.
Address: Kampung Kangkar Merlimau, 83500 Parit Sulong, Johor
9. Endau-Rompin National Park
In the southernmost extension of Tenasserim Hills, Malaysia, Endau-Rompin National Park is a protected tropical rainforest. It is located south of Pahang State and northeast of Johor, covering an area of about 870 km², making it the second largest national park in Peninsular Malaysia after Taman Negara.
Location: Taman Negara, Johor
10. Bukit Mor Hiking Trail
The Bukit Mor hike is a short hike near Parit Jawa and 13 kilometers south-east from Muar, a town in Johor's southernmost state of Malaysia. Completing this trek at a moderate pace will take you over an hour, and the hike will reward you with a beautiful view overlooking a lake and nature.
While picturesque views from the hike, there are a couple of safety considerations to be aware of. Since the trail is not properly marked with many diversions, hikers on this hike may be confusing for the first time.
Location: 84150 Parit Jawa, Johor
Visit Maibeaute Jb Spa
Discover a new worlds of pure sensory environment at Our wellness spa which provides a cozy environment for all of your beauty needs. Maibeaute Spa is recommended by all spa lovers for you to be energized and fully great experience with every single treatment offers.
Otherwise, surrender your inner senses to a timeless rejuvenation with our rejuvenating facials or best selling signature maibeaute spa product. Rather your session would not be complete without enjoying Maibeaute Spa facilities. Treat yourself to a stress releasing and pampering jacuzzi session.
Top 10 Best Places For Hiking Outdoor Activities in Johor