Cafe Kuala Lumpur have been inspired by the vibrant café cultures found in towns such as Melbourne, Australia and Seattle in the US. In Malaysia's capital, the famous coffee shops are often bakery-cum-cafes offering all-day brunch fare, quality coffee and tea, as well as sweet desserts in charming and distinctive vibes. Most of these institutions are located in the center of Kuala Lumpur and Bangsar, although in Publika Mall and Petaling Jaya there are several hidden gems.
Perfect for nursing a hangover or having a nice brew with friends, locals and tourists are spoiled for decision when it comes to brunching during the weekends of laidback. Our 8 Best Cafes in Kuala Lumpur promise friendly service and excellent food and beverage offerings from trendy cafes in KL with a hip New York loft-inspired decor to quirky European-themed bistros.
1. Acme Bar & Coffee Cafe In KL KLCC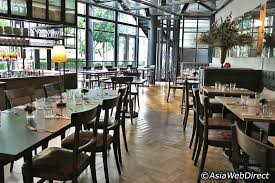 Located in The Troika Cafe In KL (just next to KLCC), Acme Bar & Coffee is an award-winning restaurant that is well-loved for its comprehensive menu and chic yet casual atmosphere. The interior is a sleek mixture of clean steel lines, comfortable sofas, plush pillows and floor-to-ceiling glass walls, as well as gently playing jazz music in the background, similar to a New York City loft.
We strongly suggest its salt beef Eggs Benedict (RM27) and organic buckwheat pancakes (RM25) for a delicious and healthy breakfast from 09:30 until 17:00. Acme Bar & Coffee provides a variety of detox juices such as apple, carrot, celery and ginger combinations, gourmet Tea Forte teas, and chocolate beverages.
2. Antipodean Cafe In KL (Bangsar)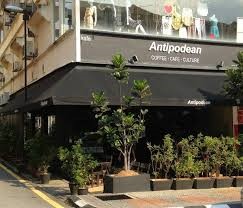 Located alongside Jalan Telawi in Bangsar, Antipodean Cafe in KL is similar to a charming Spanish bistro with big rust-orange tiles, glossy black wood furniture and red Tuscan walls. On a huge blackboard-style wall, the comprehensive western and Asian-style menu is scribbled with colourful chalk. Its all-day breakfast offers enable diners to enjoy delicious delicacies such as smoked salmon omelette (RM20), while its fluffy butterscotch banana pancake (RM16) is a excellent option for those with a sweet tooth.
Also accessible is a choice of cakes like butter-free chocolate cake, carrot cake and lemon meringue cake. Antipodean Cafe in KL serves a variety of coffee and tea, milkshakes and healthy fruit juices for drinks; the milky and robust latte café (RM8) is particularly enjoyable.
3. The Good Batch Cafe Damansara Utama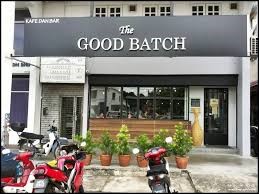 The Good Batch cafe in KL is a cosy brunch retreat in Damansara Utama that provides sumptuous all-day breakfasts, crunchy salads and light snacks, as well as a healthy selection of alcoholic and non-alcoholic drinks. Serving a harmonious mix of Malaysian flavours in classic western fare, we strongly recommend The Good Stuff cafe (grilled mango-stuffed French toast drizzled with crushed nuts, gula melaka, caramel sauce served with a side of creamy vanilla ice cream) and Malaysian-Lah (chunky chicken marinated in Malaysian spices, tossed with potato cubes and new greens, all wrapped in roti canai). The Good Batch cafe is located about a 30-minute drive from the centre of Kuala Lumpur via Sprint Highway in Petaling Jaya.
4. The Red Beanbag at Publika Solaris Dutamas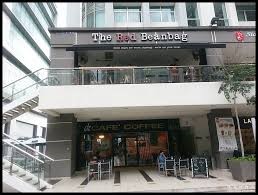 The Red Beanbag cafe in KL, located in Solaris Dutamas ' Publika Mall, is a contemporary Australian-inspired cafe that provides hearty all-day breakfasts and delicacies from the West. It is often packed with youth and relatives during weekend evenings so be sure to go there by 10:00 to prevent a lengthy queue.
For breakfast, French toast, Benedict eggs and pancakes are served in this cafe, while from 12:00 on hands such as risottos, pastas and burgers are served. The Skyscraper (RM17), which consists of a stack of piping hot pancakes strongly drizzled with Canadian maple syrup and dark chocolate sauce, served with a side of caramel fruits, is highly recommended for a brunch or dessert choice.
5. Yeast Bistronomy Bangsar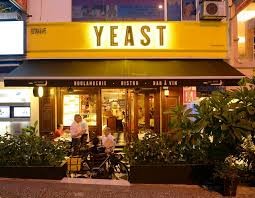 Located along Jalan Telawi in Bangsar, Yeast Bistromy cafe in Kuala Lumpur is a stylish French-themed bistro, bakery and wine bar well-patronized for its delicious French breads, ranging from its bestselling almond croissant to the unusual smoked duck cheese puff.
Its dine-in menu Yeast Bistromy cafe in KL includes mainly French cuisine, as well as more unique dishes such as grilled bamboo king prawn with saffron risotto and seared Hokkaido scallop while the breakfast menu is a colourful array of croissants, Danish and pastries. Having been hailed as a favourite restaurant place among expats and local brunch enthusiasts, food and beverage quality here definitely justifies its rather high rates.
6. VCR Cafe In KL Bukit Bintang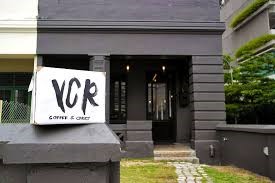 VCR Cafe in KL is a excellent location for discerning coffee drinkers and brunch enthusiasts, just a 15-minute drive from the busy town centre of Kuala Lumpur. Remodelled from a corner-lot building, this attractive café maintains much of its initial charm and old-world atmosphere while the first floor is dominated by an airy, breezy, rattan-chair configuration.
VCR Cafe in KL also provides hot chocolate produced with quality Valrhona cocoa, serving a good variety of coffee from single-origin beans and distinctive blends. The delicious homemade cakes complement your option of caffeine. The King Cake (RM12), an indulgent banana cake layered with frosting peanut butter, banana slices and chocolate, is recommended.
7. Pulp by Papa Palheta Bangsar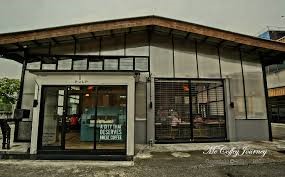 Papa Palheta's PULP cafe in KL is a specialty coffee bar located in Bangsar's former printing plant. Originating from Singapore, the cafe interior is an eclectic blend of industrial and rustic chic, with elevated exposed ceilings, dark wooden panels and steel fittings, as well as huge glass windows that provide plenty of natural lighting.
PULP by Papa Palheta cafe in KL attracts a constant weekend crowd of coffee lovers and trendy youth alike with a winning mixture of quality brewed coffee, home baked cakes and savoury pastries, a very welcoming atmosphere and a team of friendly employees.
8. Feeka Coffee Roasters Bukit Bintang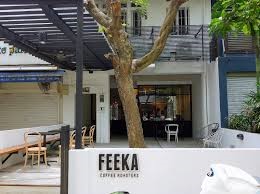 Located next to the No Black Tie Jazz Club, Feeka Coffee Roasters cafe in KL is a cool café in KL serving hearty breakfasts, homemade desserts, not to mention quality and aromatic coffee in Jalan Mesui, Changkat Bukit Bintang.
This spacious cafe in KL is beautifully decorated with inconsistent furniture, tiny potted plants, light bulbs hanging and wooden components. Wonderfully rich with a pleasantly lingering aftertaste, couple Feeka's award-winning El Salvador (RM18) AeroPressed specialty coffee with the Feeka omelette (sprinkled herbal mushroom, sautéed cauliflower, tomato jam and wild cheddar) for a pleasant Sunday brunch. Feeka Coffee Roasters in KL also provides a variety of teas and bottled juices if you're not in the mood for coffee.
These cafes have not been listed here, which does not imply that they are not tasteful, they may not have been found yet. You have to enjoy finding many surprising delicious hidden foods or cafes here as a visitor to Kuala Lumpur.
Visit Maibeaute Jb Spa
Discover a new worlds of pure sensory environment at Our wellness spa which provides a cozy environment for all of your beauty needs. Maibeaute Spa is recommended by all spa lovers for you to be energized and fully great experience with every single treatment offers.
Otherwise, surrender your inner senses to a timeless rejuvenation with our rejuvenating facials or best selling signature maibeaute spa product. Rather your session would not be complete without enjoying Maibeaute Spa facilities. Treat yourself to a stress releasing and pampering jacuzzi session.
Best Cafe That You Must Visit at Kuala Lumpur