Try amazing thai food at the best thai restaurant with highly aromatic with a unique blend of sweet, sour, salty, bitter and spicy, Thai cuisine is undoubtedly one of the world's most popular cuisine. The differences in Thailand's cuisine and culinary styles are fantastic from region to region, from the fiery Tom Yam to the savoury Pad Thai, providing an extremely diverse selection of dishes.
We're not pleased to have Thailand up north as a neighbour as Bangkok is only a 2-hour flight time. But if it's not your thing to travel far and wide, then go exploring your own backyard as we take Thailand to you in this list of Johor Bahru's delicious Thai food in the amazing Thai restaurant.
1. Pachem Thai Food
Pachem Thai Food Restaurant is one of Johor Bahru's popular Thai Food Restaurants. It offers reasonable price for a lot of authentic Thai cuisine. The chef will provide a recommended menu on the wall. Since some of the ingredients may not be available daily, try the recommended dishes is dependent on your luck.
Since their operating hours are only open in the morning, it means they only provide people with lunch. There's usually going to be a long wait before you get lunch seat in. For the purpose of sequential order, the waiter will first give a number. You may also have a look at the menu before you dine in and place the order. So, don't forget to drop by here in Johor Bahru before returning to Singapore.
Address:2, Jalan Dedap 15, Taman Johor Jaya, 81100 Johor Bahru, Johor, Malaysia.
Operating hour: 12pm-6pm (Mon to Sat); Closed on Sunday
Contact number: 010-6669352
2. Absolute Thai@ KSL
Located in KSL City Centre, this modern Thai restaurant is easy to find. With multiple branches across Kuala Lumpur, the capital of the country, Absolute Thai offers delicious Thai dishes such as their popular Tom Yam soup and Pad Thai-skilfully prepared to give you the best possible experience. Don't miss out the chance to try it here in Johor Bahru even though there are other branches as well.
Address: Medini Mall, Johor Bahru, Malaysia
Operating hour: 11.30am-9.30pm
Contact number: 07-5909221
Youtube link: https://www.youtube.com/watch?v=5qUJodBJ56s
3. Soul Thai
Do not be fooled by the glamorous façade-here the rates are quite fair and worth visiting. Soul Thai uses the freshest ingredients to prepare some delicious Thai food.
It includes their seasonal crabs that can be cooked in a variety of methods and spices in the Thai style. The fragrant Pineapple Fried Rice and the special Steamed Squid in a tangy gravy are other delicious dishes. Thus, it is a must try here in Johor Bahru before returning to Singapore.
Address: 3-G, Jalan Bestari 3/5, Taman Nusa Bestari, 81300 Johor Bahru, Malaysia
Operating hour: 10am-11.30pm
Contact number: 07-5115000
4. Carabao Thai Restaurant
Carabao is a Thai restaurant happily decorated with the best of Thai and regional elements. Just the breezy atmosphere of the resort alone is already fun, but for a visit this is not your main purpose.
You won't be disappointed by this staple of Thai cuisine serving a distinctly sharp spicy and sour Tom Yam soup. Don't forget to pair the regal feast with a few milder dishes and take a walk down a burning trail in your belly. Don't miss out the chance to try it out here in Johor Bahru before returning to Singapore.
Address: 16, Jalan Dato Abdullah Tahir, 80250 Johor Bahru, Malaysia (Next to New York Hotel)
Operating hour: 12pm-3pm; 6pm-1am
Contact number: 07-3359333
5. Amphawa Boat Noodle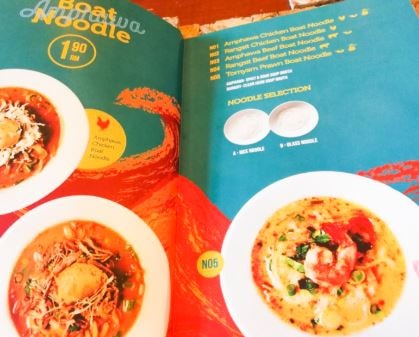 The Boat Noodles ' first variant is the Amphawa Boat Noodles and you have either Beef or Chicken to choose from. On the menu, the Amphawa Boat Noodles is described as an accurate "spicy and sour broth."
The broth is very thick and flavourful! So, you get a handful of noodles floating in this delicious broth, you get some minced meat (beef or chicken) and either a beef ball or a chicken ball depending on which one you have ordered. By the way, they also added some crunch in the form of stalks from Kang Kong.
It sounds like a very simple dish, but it has very complex flavours in fact! And you can suit the condiments that are available at each table! Thus, it is highly recommended here in Johor Bahru before you bring your regret back to Singapore.
Address: No.69, Jalan Sutera Tanjung 8/2, Taman Sutera Utama, 81300, Skudai, Johor
Operating hour: 11.30am-10.30pm
Contact number: 07-5596440
6. Tera- Thai Fine Dine Restaurant
The restaurant Tera-Thai Fine Dine provides delicious Thai food at affordable prices. The entrance to the restaurant is beautifully decorated and the interiors exude dry, comfortable lighting that creates the mood for an enjoyable dining experience.
However, unlike some other locations, the price appears to be slightly higher, but the quality of the food will definitely surpass the guests ' expectations. With their service, the restaurant staff are quite professional and always respond quickly to the guests ' needs.
Also available are specialty dishes such as Khao Phad Talay, Kuey Teow Kua Gai and desserts of various choices. Thus, it is highly recommended here in Johor Bahru before you return to Singapore.
Address: 31, Jalan Abdul Samad, Johor Bahru 80100
Operating hour: 11.30am – 3.30pm; 5.30pm to 10.30pm
Contact number: 07-2226300
7. Signature House Thai Cuisine
Signature House has been bringing something new to the table for many Taman Sentosa foodies and natives since 20 January 2016 in search of continuous creativity and novelty to carry out ingenuity with authenticity from their regular Thai fare.
The present Signature House, formerly known as the Social House, has managed to stand out prominently as a go-to destination for contemporary Thai food by taking residences in a semi-detached corner house alongside Jalan Sutera amid the proliferation of various food haunts. Hence, do not forget to drop by when you pay your visit to Johor Bahru.
Address: 100, Jalan Sutera, Taman Sentosa, 80150 Johor Bahru, Johor
Operating hour: 12pm – 3pm; 6pm – 11.30pm. Closed on Saturday.
Contact number: 07-3360918.
8. Siam House Thai Restaurant
As with the wide selection of Thai delicacies, Siam House's menu varies very widely from seafood dishes to noodle dishes. Also available is the popular Phad Thai, a glass noodle dish and a patron hit.
But of course, one can never mention Thai restaurant without highlighting their best delicacy of Tom Yam Kung and Siam House sure to make one of Johor's best whether it's Tom Yam's clear white broth or the picturesque hot red broth which stings your tongue on every sip.
However, particularly when Siam House wooden setting and Rama statue standing on the walk away greets every customer coming in, the experience here will be well assured. It is available to use the RAMA lounge for a lot of private catering. Hence, do not forget to try it out here in Johor Bahru.
Address: G-07, Jalan Molek 1/30, Taman Molek, Johor Bahru 81200
Operating hour: 11am – 11pm
Contact number: 07-3578113
9. Bangkok Village
Their Siakap Tiga Rasa or known as Thai Lemon Steamed Siakap would be one of their signature dishes. If you're not a big Ikan Siakap fan because of his muddy taste, believe us, after trying it, you'd totally change your mindset.
The tangy and savory sauce overtakes Ikan Siakap's muddy taste and brings out the natural sweetness of Ikan Siakap. When getting this scrumptious food, you would not find any hint of the muddy taste at all. Besides that, if you're not a fan of steamed fish, you can also fry the Siakap deeply.
The Ikan Siakap remained inwardly delicate, yet outwardly crispy. It is best mixed with spicy gravy in the Thai style which gives you a tangy, sweet and spicy taste after a sip. Hence, make sure you try the dishes here in Johor Bahru before leaving to Singapore.
Address:LOT 93547, Jalan Harmonium 3, Off Kota Tinggi, Taman Desa Tebrau 81100, Johor Bahru, Malaysia
Operating hour: 11am-12am
Contact number: 019-7279882
10. P Ya Thai Restaurant
The simplistic interior can be deceiving, and perhaps a lot of people wouldn't have given a second glance to P Yai Thai Restaurant if not for the owner's endless positive reviews. It's straightforward interior design with furnishing, and no frills, but it's clean and comfortable.
Let's continue with their chicken from Pandan. P Yai Thai Restaurant customers and the owner themselves highly recommend this meal. Their chicken from Pandan is delicious overall, the meat from chicken is slightly crispy outside while still tender and juicy inside.
You can get a taste of the strong fragrance infused with the pandan leaf while also chewing the chicken chunk. Therefore, they are certain that due to its small portion size, one can easily have two Pandan Chickens. So, don't forget to order enough portion in the restaurant before heading back to Singapore.
Address: 5, Jalan Impian Emas 5/1, Taman Impian Emas, Johor Bahru Malaysia
Operating hour: 12pm-3pm; 6pm-11pm
Contact number: 011-28337041
Visit Maibeaute Jb Spa
Discover a new worlds of pure sensory environment at Our wellness spa which provides a cozy environment for all of your beauty needs. Maibeaute Spa is recommended by all spa lovers for you to be energized and fully great experience with every single treatment offers.
Otherwise, surrender your inner senses to a timeless rejuvenation with our rejuvenating facials or best selling signature maibeaute spa product. Rather your session would not be complete without enjoying Maibeaute Spa facilities. Treat yourself to a stress releasing and pampering jacuzzi session.
Top 10 Most Popular Thai Food Restaurant in Johor Bahru